Request Catalog Overview
Request Catalogs make it easy for people to log new requests to your service desk.
The Request Catalog is the first screen that is presented to a web user (staff or client) when they start the process of logging a new job / request. It is presented as a collection of "tiles" that represent different options for logging requests.
Request Catalogs are often named and themed to represent a particular business function, request type, or operational area. Examples include:
IT requests
HR requests
Legal and Policy
Facilitied Maintenance
The business can create as many request catalogs as required. Each catalog tile can have its own image, title and description.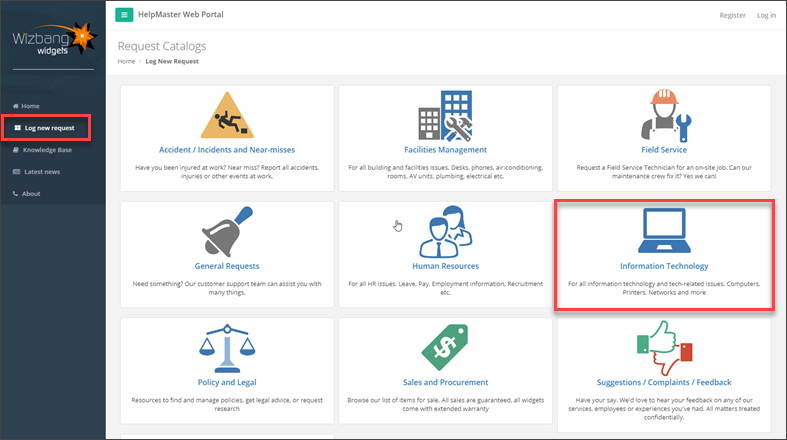 Once the Request Catalog system is defined and configured correctly, the HelpMaster Web Portal provides a powerful self-service interface for your clients.
Understanding the objects that make a request catalog
Request Catalogs integrate with the template system of the Desktop Edition in order to operate.  It is important for the HelpMaster system administrator to understand how each template type works, and to understand the interaction between a job template, an Action Template and an Email Template.
A Request Catalog is a grouping of Job Templates, Knowledge Base articles and text information that is presented to users via the HelpMaster web portal.  Users can drill-into a request catalog to view the job templates and knowledge base articles within.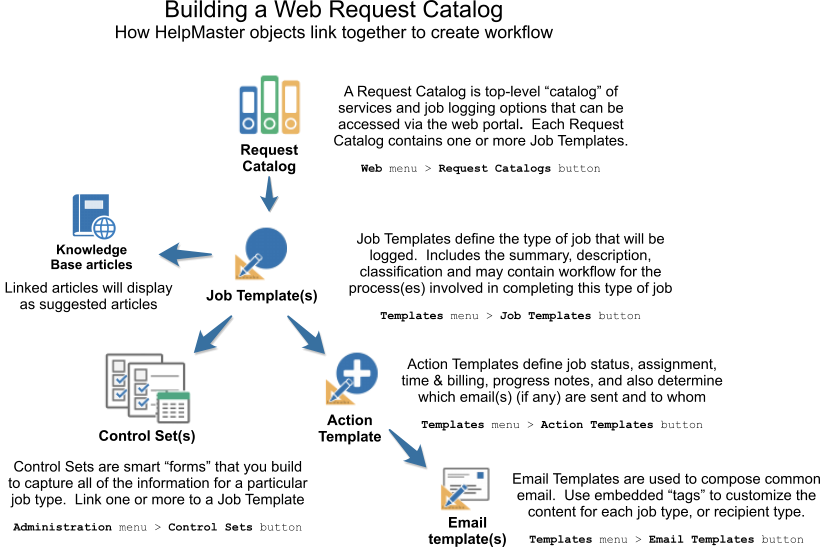 Job templates
Once a suitable Request Catalog has been selected, all of the Job Templates that are linked to that request catalog will be displayed for the client to select from.  When the appropriate job template has been selected, the client fills in this screen and "submits" their job. The job that is logged will be based on the Job Template that was used, and all of the template logic, workflow and configuration be "stamped" into that job.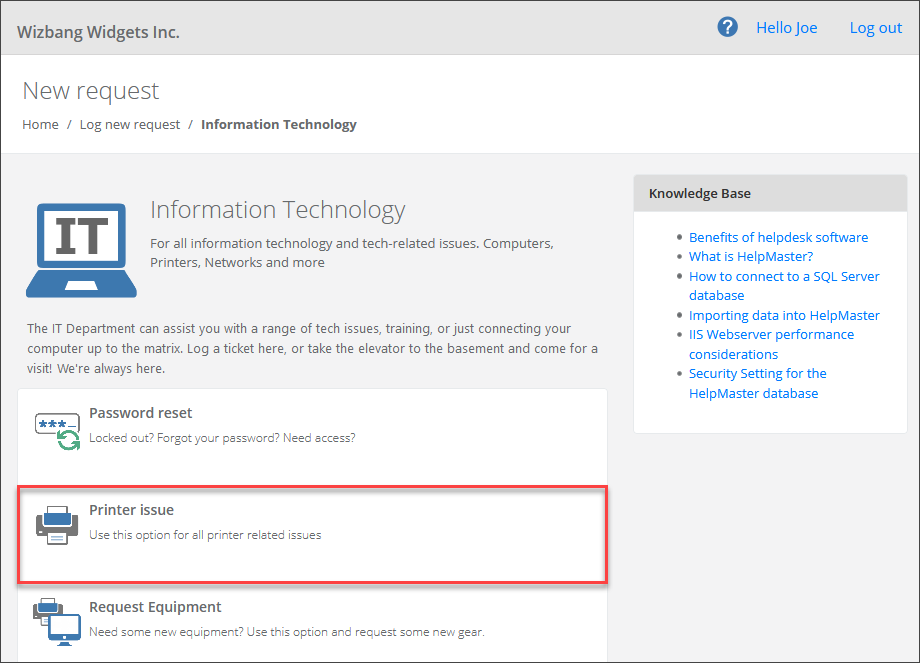 Action templates
Updating existing jobs
The web portal allows clients to update their existing jobs, which appear in the Desktop edition as an new action in the action log.  The HelpMaster administrator can specify and configure an action template that will be used to apply any web updates.  If no such Action Template is used, the job will simply be updated with a new action that will contain the text the client entered.
Logging new jobs
Action templates are used during the job logging process because they are linked to the job template that is selected.  
Email templates
Email Templates are used to standardize the email response a client receives after they have logged, or updated their job.  If a web-enabled Action Template contains one or more Email Templates, that is, the action has been configured to send email when it is applied, those email templates will be converted into email and sent to the relevant people.  This means that clients logging a job over the web can receive a confirmation email along with notification emails to staff members.
Knowledge base articles
Clients are able to browse a list of web-enabled knowledge base articles that have been created by the HelpMaster Desktop edition.  These articles will be read-only, however each client may choose to rate the article via a quick and simple voting system that is presented in each Knowledge Base article.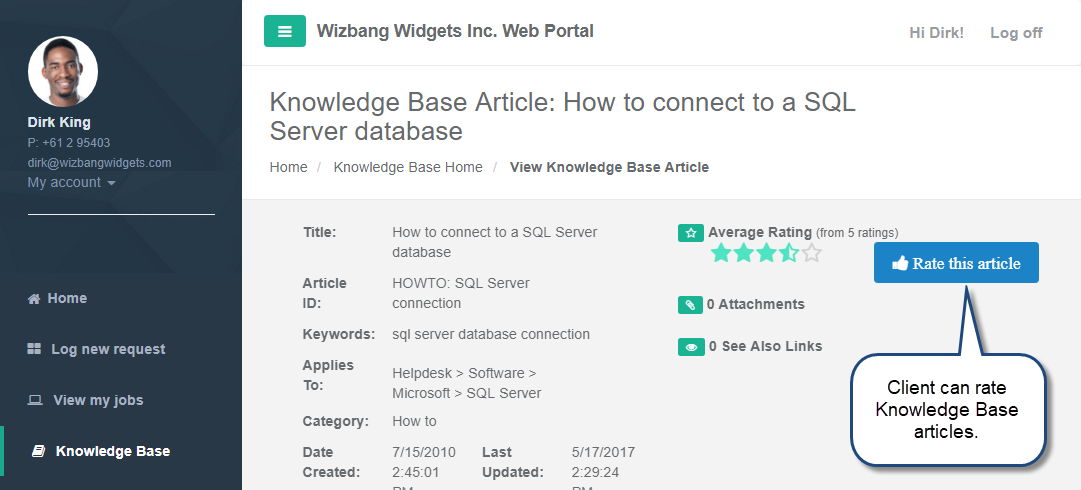 Clients
Each client stored in the HelpMaster database that is visible from the Desktop version of HelpMaster is a potential client that can use the Web Portal.  In order to be able to use the Web Portal, they need to be correctly registered and licenced to do so.
See Also