Registering HelpMaster
Applying a HelpMaster license code
Production License
When you first install HelpMaster, the default registration is set to evaluation mode which means that the number of jobs and/or the time you can use the product will be restricted. To fully enable your production version of HelpMaster you will need to register it with your company's registration code that was sent to you by PRD Software when you purchased the product.
If you do not have a registration file, please contact PRD Software.
Development / Testing License
An additional license may be provided for API, SQL, custom development, and testing purposes. This development license will have the same number of licenses and product activations as your production license but job details and emails will be truncated and appended with the words "*** This product is NOT licensed for production use ***". Please contact PRD Software directly if you require such a development license.
Navigation in HelpMaster Desktop
Help
toolbar >
Registration
section >
Register
button

SQL Server High Availability
If using SQL Server High Availability / failover clustering, please ensure that all SQL Server Accounts / Windows Users that will be connecting to the HelpMaster Database have the "VIEW SERVER STATE" and "VIEW ANY DEFINITION" permission to the MASTER database of your SQL Server Instance hosting the HelpMaster database. This will ensure that the registration process will be effective should a database failover event occur.
For further information about SQL Server permissions, please refer to SQL Server Permissions
Use
Log into HelpMaster Desktop
Select the Help menu > Register toolbar button
Paste your registration code into the text field or browse to the licence file
Click on Register new code
Click on Close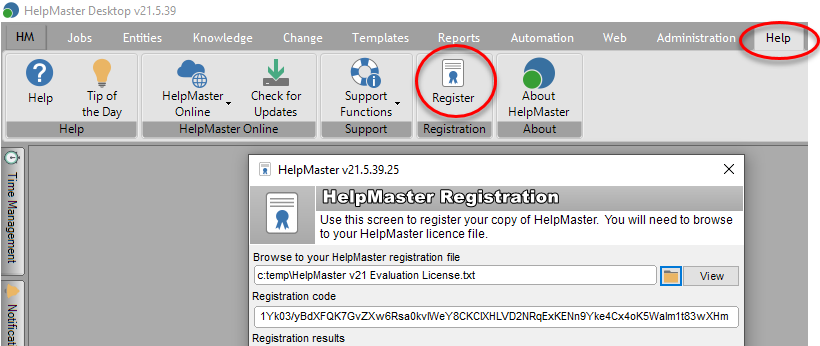 See also