Registering HelpMaster
Applying a HelpMaster license code
Navigation in HelpMaster Desktop
Help toolbar > Registration section > Register button

Licenses can also be applied via the Database and Reports Wizard
Production License
A production license is used when HelpMaster has been purchased and you intend to use HelpMaster in a live, production environment. Production licenses are time-sensitive - they expire within 3 days of their issuance. It is important therefore to apply a production license as soon as you receive it. If your license has expired, please contact PRD Software to receive another license.
If you do not have a registration file, please contact PRD Software.
Development / Testing License
An additional license may be provided for API, SQL, custom development, and testing purposes. This development license will have the same number of licenses and product activations as your production license but job details and emails will be truncated and appended with the words "*** This product is NOT licensed for production use ***". Please contact PRD Software directly if you require such a development license.
SQL Server High Availability
If using SQL Server High Availability / failover clustering, please ensure that all SQL Server Accounts / Windows Users that will be connecting to the HelpMaster Database have the "VIEW SERVER STATE" and "VIEW ANY DEFINITION" permission to the MASTER database of your SQL Server Instance hosting the HelpMaster database. This will ensure that the registration process will be effective should a database failover event occur.
For further information about SQL Server permissions, please refer to SQL Server Permissions
Use
Log into HelpMaster Desktop with an account that is part of the built-in "Administrator" Application Security Role
Select the Help menu > Register toolbar button
Paste your registration code into the text field or browse to the licence file
Click on Register new code
Click on Close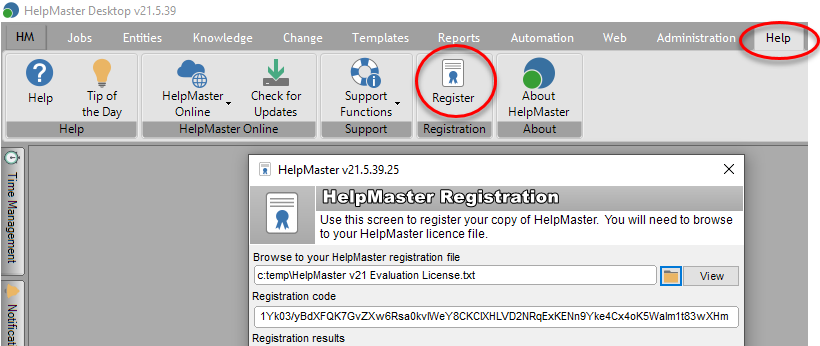 Missing button?
Is the "
Register
" button missing!? Ensure that the account you are signed into HelpMaster with is part of the built-in "Administrator"
Application Security Role
See also
Register via the Database and Reports Wizard