HelpMaster v22 release
Latest new version
v22 Release
The v22 release continues to build upon the improvements in both the desktop and web portal for HelpMaster. We've made a lot of "under the hood" improvements to continue our development of the new web portal and migrate more features from the desktop edition to the web. Future releases will continue to move more functionality over from the desktop edition.
Web Portal
Upgrade to Microsoft .net Core 6.0. The latest edition of Microsoft .net core is fast, stable, cross-platform and secure.
Improved HTML support for all rich text content The new Microsoft WebView2 control delivers fast, consistent HTML viewing and support. This same control is also used by the Desktop edition of HelpMaster, which means that HTML (knowledge base, email templates, etc. should render in exactly the same manner on both desktop and web)
Improved attachment support Attachments now display more information about who added/updated them, as well as the date/time. Image attachments can be pasted from the clipboard and linked to a job/action for quick and easy use.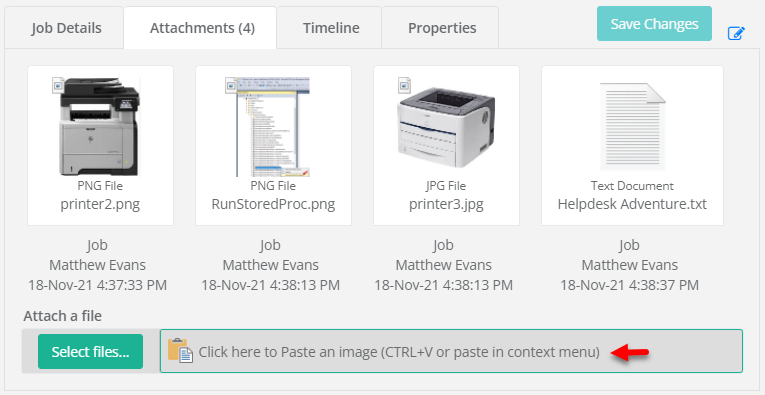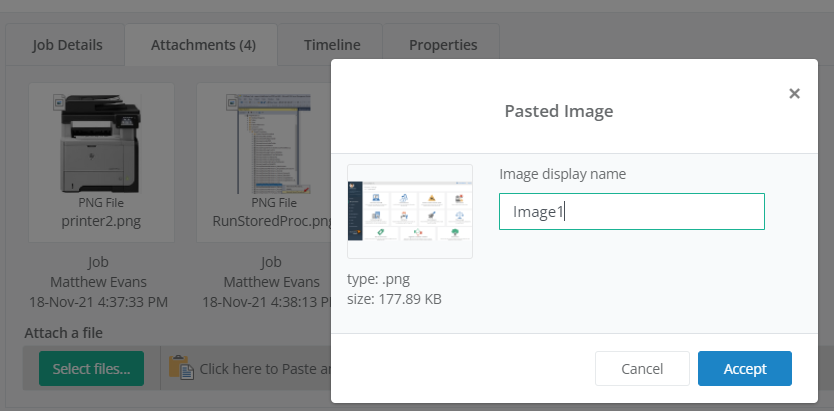 Ability to create / edit knowledge base articles The web portal now supports creating and editing knowledge base articles for staff - using the new HTML editor (shared by the Desktop edition also).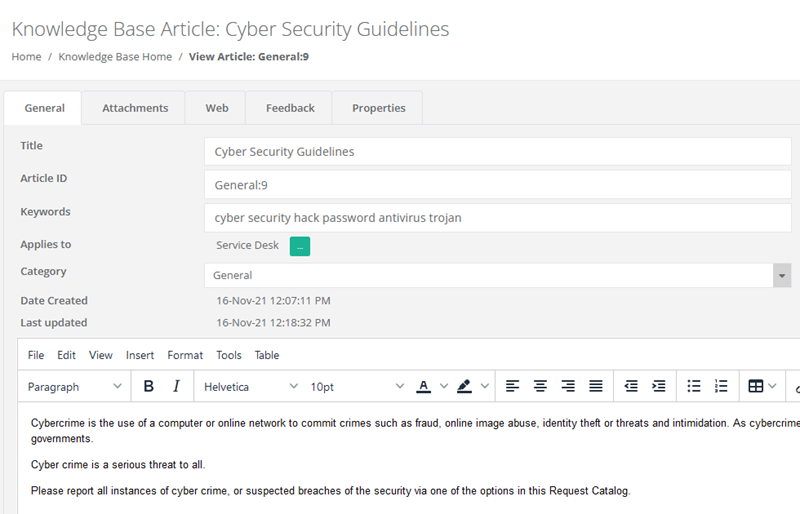 Improved Workflow panel The workflow panel for the web portal has been improved to display more information, better formatting and imagery for workflow operations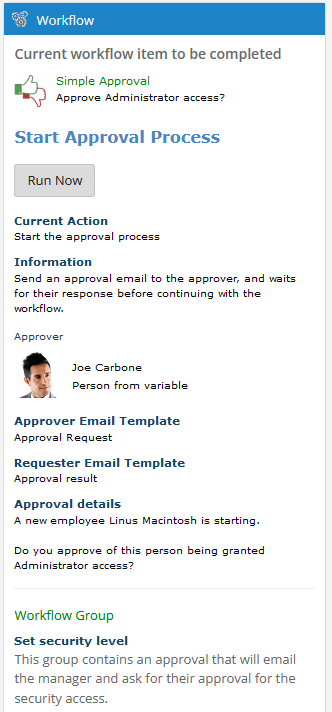 Improved layout and support for flagging a job Flagging jobs has a better layout for quickly picking a flag.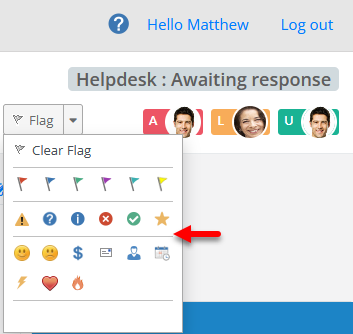 Improved flow for Windows / Active Directory authentication and login Several improvements have been made to the Windows authentication process for single-sign in easier, including better support for home-page auto sign-in.
Many UI tweaks for better usability Lots of sizing tweaks, keyboard support, tabstops, re-sizing events, resizable job details textbox and more.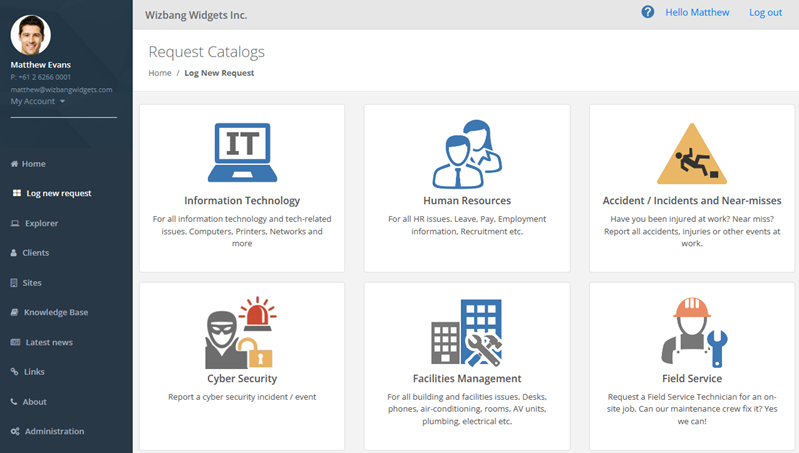 Workflow
Many improvements in workflow for stability, fixes, performance, logging, presentation and overall flow
New "Update Control Set field" workflow object allows the ability to update a control set field value with a hard-coded value, a variable, or to clear it. Several options are available for existing values, and all Control Set validation rules are applied and checked.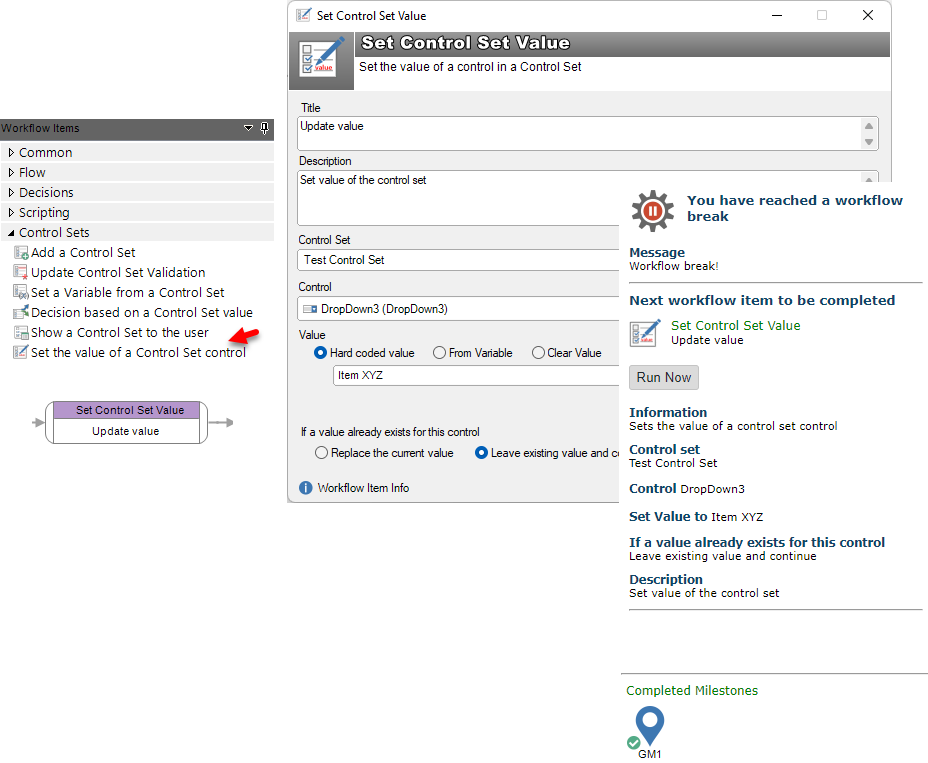 Variable handling and display have been improved. Lots of minor updates and improvements to variables for logging, display and use.
String variables now have a "Multi-line" option that allows better handling of larger text variables.
SQL script objects have additional syntax and context checking to assist with designing better and safer SQL scripts.
Desktop
Job Finder now support template and profile searching. The Job Finder can now search using criteria based on what module logged a job, what job template was used, and what profile initated the template. This can be used for reporting data and configuration refinements.

Better dependency visualization and reporting The dependency tab for templates, profiles and other items has been improved to provide clearer graphics to identify dependencies as well as the ability to use the Job Finder to search for jobs that were created as a result of that dependency.
Minor UI updates. Lots of minor fixes for colour, labels, control alignment, theme support etc.
Custom stored procedures for control set client and site pickers. Workflow and forms designers will love this one. Control Set client and site pickers can now base their contents on a custom stored procedure that can be created to return any results you need. This allows workflow and form designers the flexibility to create custom pickers for any workflow scenario.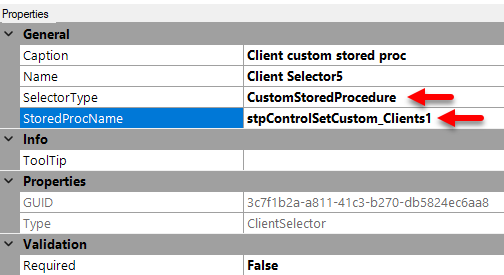 Change Management
Change Management Toolbar. The Change toolbar has been updated to look similar to the Jobs toolbar, and to behave in the same way jobs are logged. Users can now select from a template, or start from a blank change. Users can now also set default templates personal use, and administrators can configure default change templates for users that have not set any preference.

Default template settings Individual staff can now set a default change management template to be applied when creating a new request for change. System Administrators can also set a default change management template to be used if staff have not already set a template.

Email Manager
Event logging has been improved. Event logs can now be filtered by individual Email Manager profiles. Verbose logging is now always on by default and is available to view within the context of a regular event log. This makes is easier to diagnose and trouble-shoot email logging events.

Improved "Mailbox Flow" visualization. The colour and style of the "Mailbox Flow" visualization now matches the styling of other workflow objects.
General
New and improved text editor. The old txText control HTML editor has been completely replaced with a newer, easier to use HTML editor from www.tinymce.com that has great HTML formatting support. This will be a welcome update to knowledge base authors, who are writing articles for both the desktop, as well as the web portal. To further provide consistency in formatting between the desktop and web portal, all HTML content in the desktop edition displays information in the new Microsoft WebView2 control. This means that what you see in the desktop will essentially be the same as what you see in the web.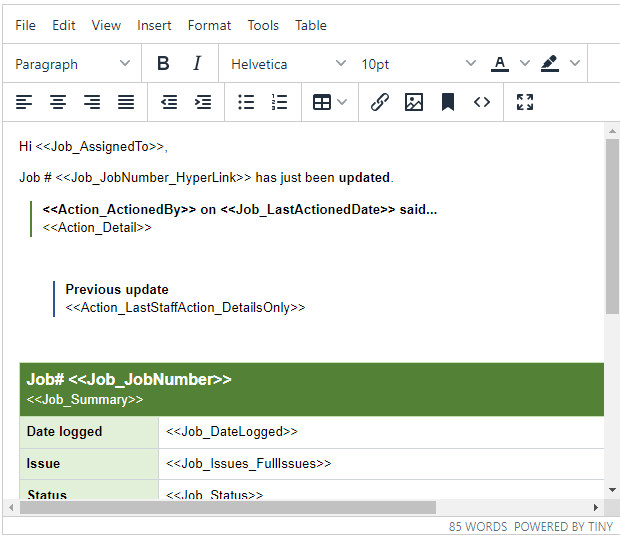 New behaviour for the action "Private" checkbox. Please read this for futher information about this change in behaviour.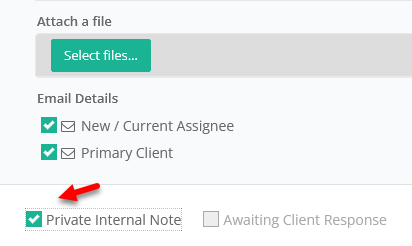 Updated email components for improved functionality, stability and performance
Lots of on-line documentation updates. Content updates and additions, "see also" links, screen-shots etc. This online documentation resource continues to get better with more content, better screen-shots and more "how to" and "why" guidance for HelpMaster.
Many improvements in the DEVOPS cycle internally at PRD Software so that build/test/production of HelpMaster is more streamlined for quicker and more stable releases.
All rich-text textboxes have been replaced with a newer, better HTML control/presentation. This will provide consistency across the desktop and web products.
3rd-party components updated or removed. Many components that are used to build HelpMaster have been updated to use the latest versions. These updates bring better stability, performance and features to many aspects of the development process.