HelpMaster v23 release
v23 was released in April 2023
New licensing model and pricing - Concurrent and Named licensing now available
The licensing system of HelpMaster has been redesigned to allow both concurrent and named licenses for both the desktop and web portal. This coincides with a new pricing structure that will provide greater flexibility and options for licensing.
Concurrent (or floating) licenses allow a license to be shared by different staff members logging onto HelpMaster (desktop or web). A license is freed-up when a user logs off. A Named license is a dedicated, fixed license that is specifically allocated to a single staff member. This means that this person will always be able to log onto HelpMaster.
See the Upgrading to v23 notes for further information about this.
For updated pricing, please refer to the main HelpMaster website.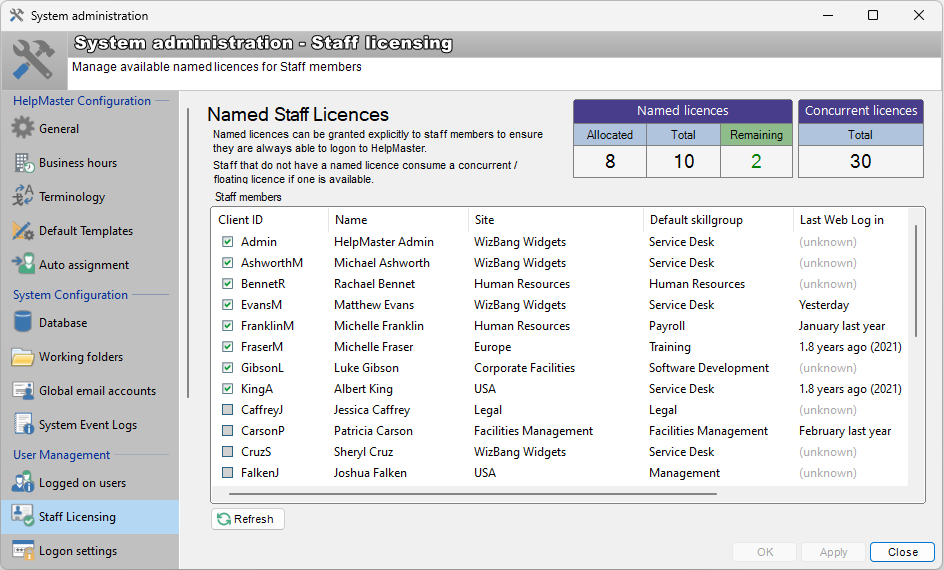 Improved quick-log jobs
The log-job screen of the desktop version of HelpMaster has been improved and now features a "Quick log / Quick Action" user interface option. This feature allows the user logging a new job to create and assign the job, without having to open the Action screen. This feature is great for when you wish to log a job and close it all in the same process, with minimal screen use.
Individual Job Templates can be configured to support the all-in-one log job screen, or to use the legacy option of using the Action screen to assign / set status and send email.
For further information see Log New Job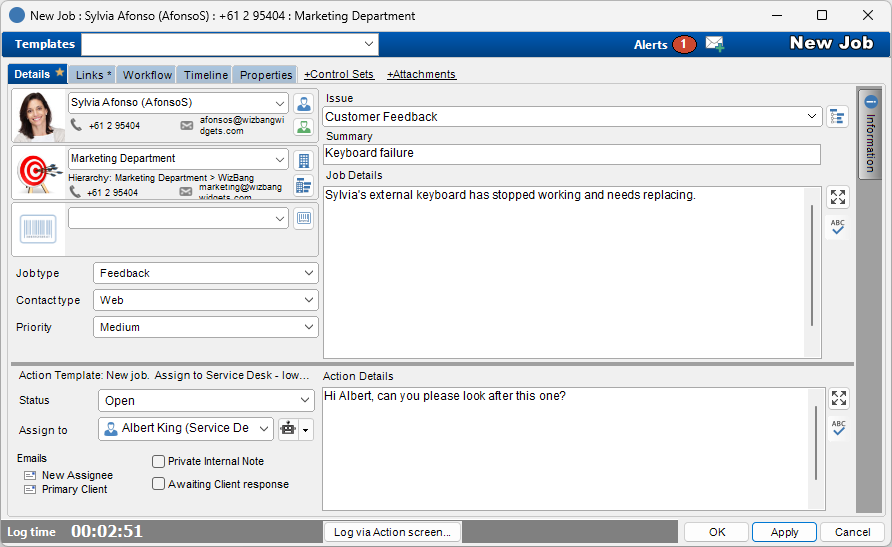 More Knowledge Base web visibility options
Knowledge Base articles now have an extended security / visibility setting that allows the business to classify each article as one of the following:
Public (Always visible - even if not logged in)
Logged-in (Only visible once logged in)
Staff only (Only visible by staff member only)
This gives greater flexibility over who can see the articles, and the ability to have "staff only" articles that will never be public, or shown to clients. Future releases of HelpMaster will expand on this concept.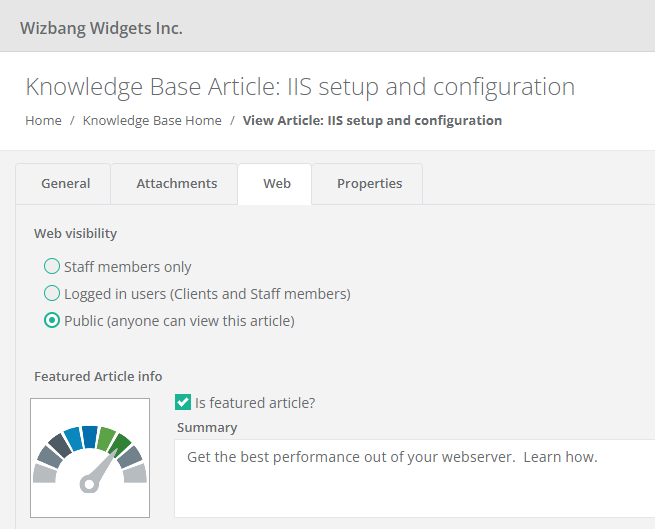 The Desktop edition also has a new status bar to indicate the web visibility options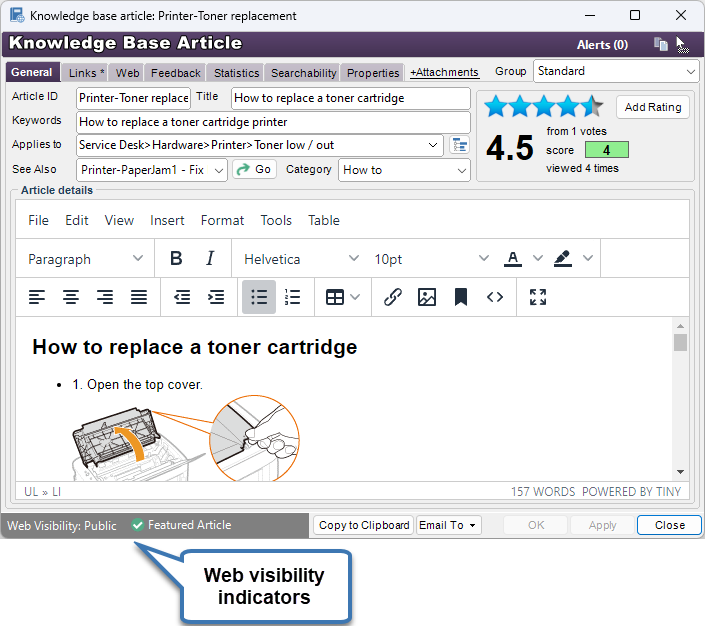 Job Template icons
Job Template icons are now displayed in the desktop version for easy identification and use.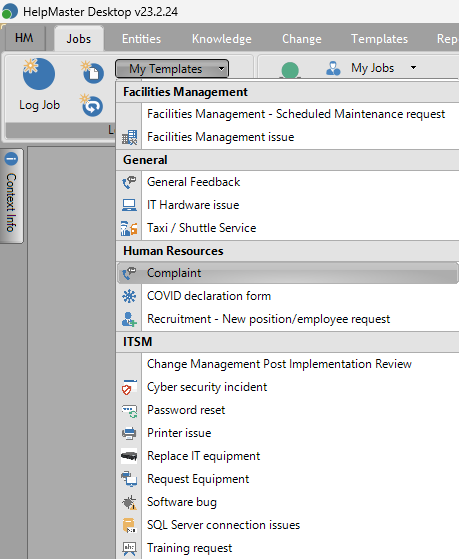 Microsoft 365 Integration improvements
Microsoft 365 integration has been improved to support national clouds, as well as a separate configuration section to allow Microsoft Authentication. This gives system administrators more options to separate email/application functionality with authentication/logon functionality.
Updated components
Many components "under the hood" have been updated to their latest versions. This improves stability, performance and upgradeability.
Support for Control Set reporting queries
Since replacing Custom Data fields, Control Sets have become an important part of HelpMaster configuration for many business workflows and operations. The data contained in Control Sets is often used in reporting and other database queries. To support this and make it much easier for report writers and system integrators, Control Sets now have the option to generate a database reporting view that can then be references by reports, APIs, and other processes.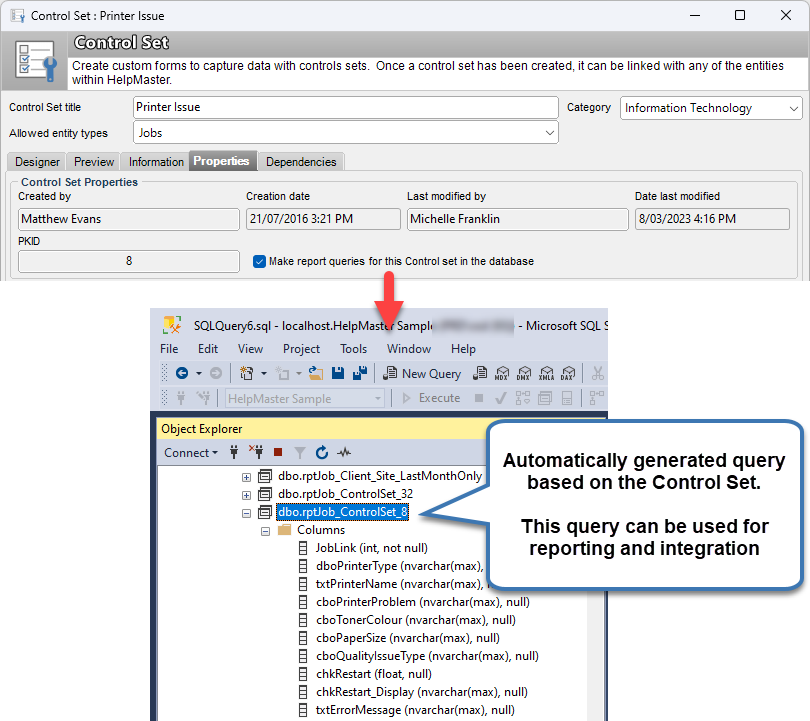 Issue selector in Desktop edition improvements
The Issue selector in the Desktop edition has been improved to provide better searching and filtering. This applies to the job screen, Issues, Knowledge Base and Templates. This assists with speed and consistency.
Web Portal minor updates
Improvements to logon / authentication (remember me checkboxes)
Auto assignment settings have been implemented in the web portal (similar to Desktop edition)
The web portal now supports the "Delete" job option (similar to Desktop edition)
Minor CSS and other UI tweaks
Re-ordered the Desktop System Administration options
The System Administration screen in the desktop has been improved for better grouping of options, and now include icons for easy recognition of options. See screenshot above.
General bugfixes, performance tweaks and more
As usual, we've fixed a bunch of issues that were reported and/or found. Specific issues can also be found in the Detailed HelpMaster Version History