Reassigning a job
Jobs can be assigned to an individual person, or to a group of people - a skillgroup
Reassigning a job refers to the process of transferring ownership of a job from one staff member to another.  All jobs that are assigned to a staff member will appear in their job queue, which can be viewed via the Explorer screen.  For a conceptual overview of assignment and job ownership, see Job ownership and assignment
Reassign from the Explorer screen
Right-click on the job(s) that you wish to re-assign to display the job popup menu
Select Reassign job to display the action screen in Reassign mode
See section below about the Action screen.
Reassign from the job screen
Click on the Reassign button from the job toolbar at the top of the job screen to display the Action screen in Reassign mode.
Once the action screen is displayed….
Select the staff member or skillgroup you wish to assign the job to from the Assign to drop down list box.
Click on OK.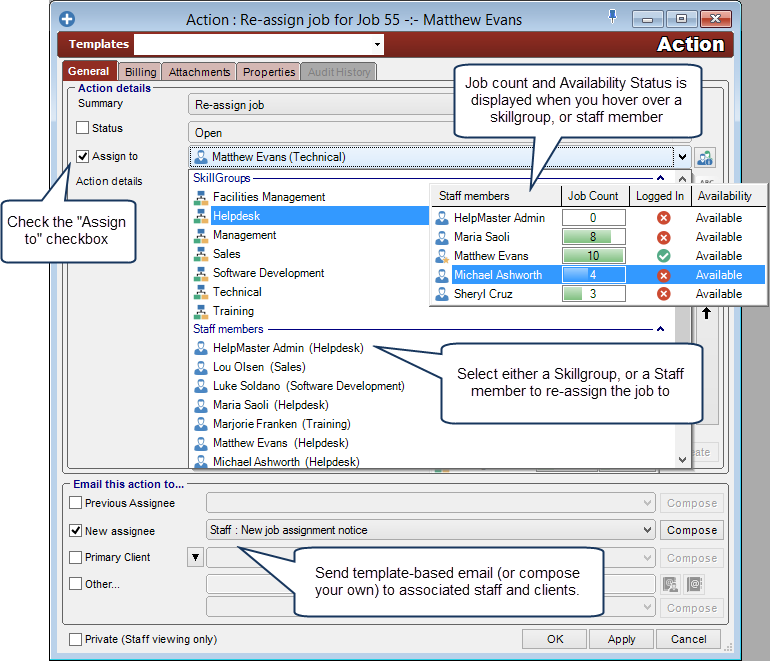 Assigning to an Unnassigned skillgroup queue
When a job is assigned to the "Unassigned" queue for a skillgroup, staff members that belongs to that skillgroup and have the appropriate permissions are able to see the job and re-assigned it, either to themselves, or to another staff member for action.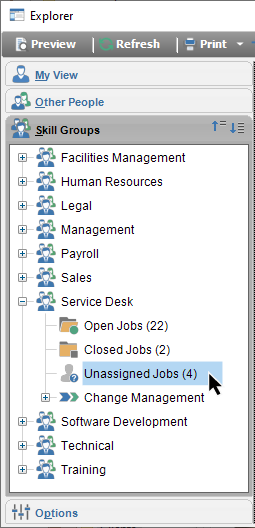 Quick Assignment from an Unassigned Job Queue
If a job is assigned to an unassigned skillgroup queue, it can be quickly re-assigned to the current active user by right-clicking the job and selecting the "Quick Reassign" option.  This will re-assign the job without any user interface and will add the newly reassigned job to the job history menu.
This operation can be performed on one or more jobs at the same time.
Handy Tip! If you are unsure about who the best person to assign a job to is, clicking on the "Queue Check" button will display the staff members and their availability status.  
See Also
Concepts : Job ownership and assignment
Applying actions to multiple jobs
Notifying staff and clients about the new assignment
Sending email from the action screen
Email Templates (Use to send an email to the new assignee)
Queue Management and Auto-assign
System Administration - Auto Assign Precedence settings
For automatic job re-assignments, see the following: