HelpMaster v16 release
v16.1.1
This major release of HelpMaster has some very good performance and stability enhancements, as well as some great new features.  It builds on the reliability of the previous v15 release and has a good focus on working more efficiently and intuitively, particularly in larger organizations.  Many of the improvements and enhancements have come from live-feedback of HelpMaster.  Working with v16 is quicker, more efficient (check out the new history menus), and more visual.
Improved toolbar options for logging jobs
The toolbar options for logging a new job have been refined.  It is now easier to select the template you want, or to choose a blank job, or re-use the last template.  Every option is now covered.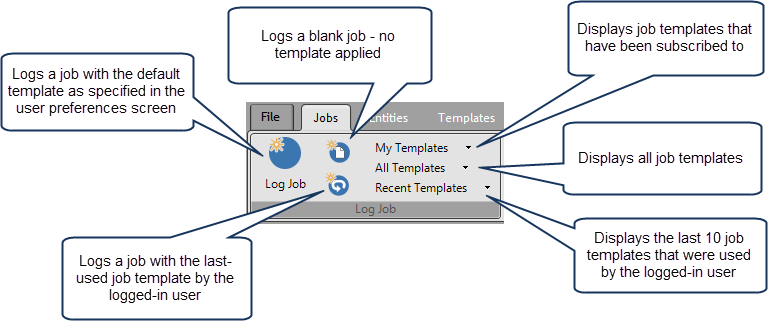 Image for Sites
Each site can now have an image.  This image will also display in the new History menus.

An improved image selector tool
When selecting images for clients, sites or assets, a new image selector screen will help you to browse to, or screen-snap an image.  Options include zoom, setting the backcolour and adjusting the aspect ratio.

Auto-asset ID generation
Asset IDs can now be automatically generated, similar to client IDs and Knowledge Base IDs.  A new tab now appears in the System Adminstration screen that can be used to configure all entity type IDs.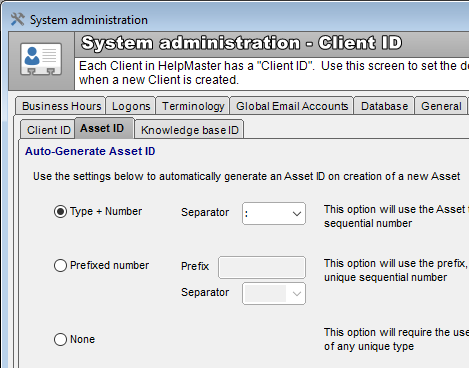 Pictures, Barcodes and QR codes for Assets
All assets now have the ability to store bar-codes and QR codes, as well as a picture.  Barcodes and QR code values are support during import.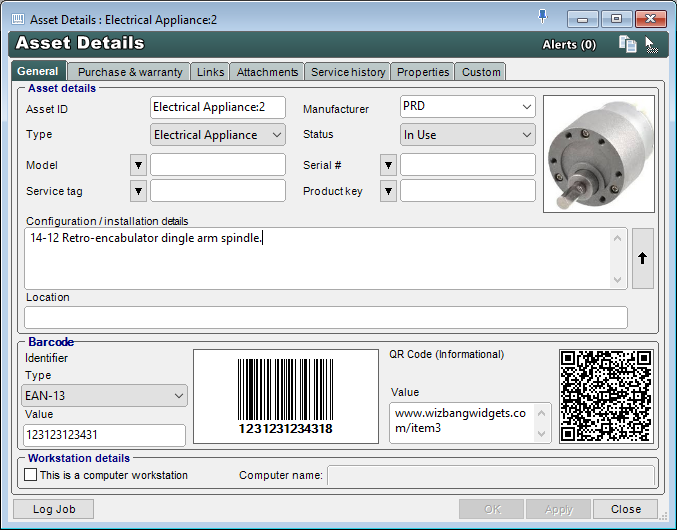 Email Template subscriptions and display
Better options for displaying Email Template types for the Action Screen.  Reduce template clutter by using the new options for Email Template contexts, and population lists.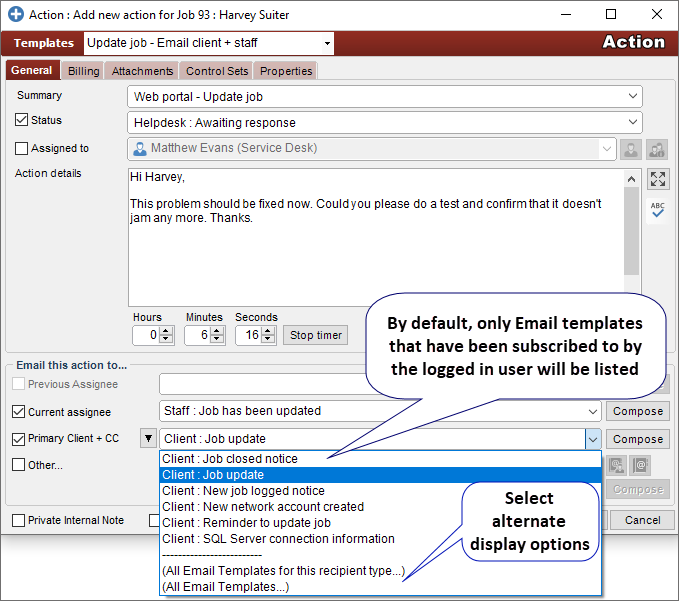 Improved email notification setttings for skillgroup and staff members
The email notification settings for members within a skillgroup have been improved.  There is now a checkbox for each staff member within a skillgroup that will exclude them from receiving email notifications whenever an email is sent to all members of the skillgroup, such as in the case when a job is assigned to the "Unassigned" queue of the skillgroup.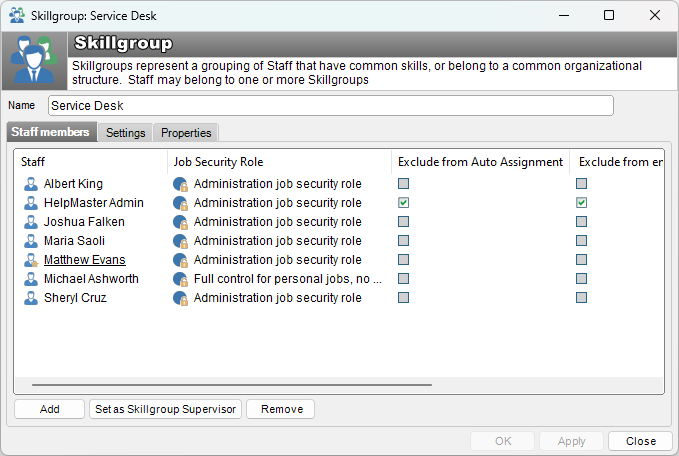 Improved History menus
The history menus have been improved to display better information about the entity that you're reviewing.
The Job History menu contains pictures of the client, as well as other relevant job details.  This makes it much easier to see the context of the history.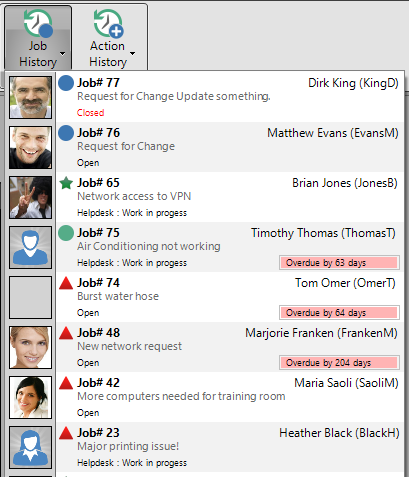 The Action History menu also displays the job number as a hyperlink.
There is also a history menu for other entities, as well as the templates. 
Alerts can now be set to display only for specific skillgroups
Alerts can now be set for specific skillgroups.  Only staff members within those skillgroups will see these alerts.
Improved Queue Check screen
The Queue check screen has been improved to allow filtering for staff members that do not have view permission on jobs.  This is handy if you have staff members that belong to a skillgroup as "Watchers" only, and you do not want them to be displayed in the Queue Check screen.
New RSS Feed Add-in
A new Add-in now ships with HelpMaster.  Point it at any RSS source, and a new dock-able window will appear that contains the details of your RSS feed.  Great for keeping up to date with news and information from your favourite RSS source.  The Add-In feature and capabilities of HelpMaster can be used to create all sorts of custom plug-ins to extend HelpMaster.  Contact PRD Software to discuss your development / integration needs and we can show you how to build your own, or build it for you.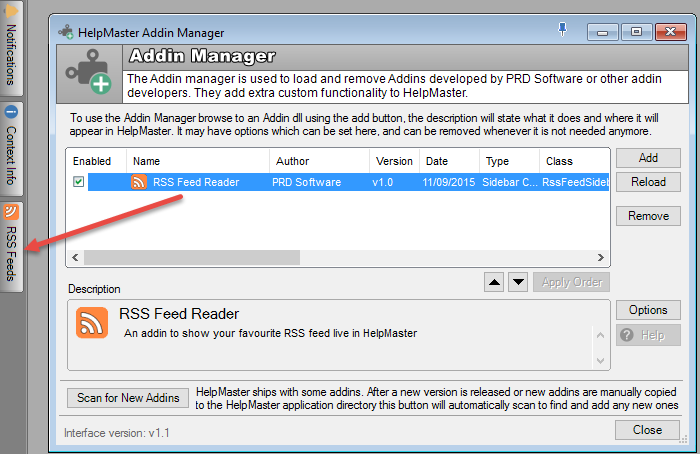 Improved Email Manager Client Parsers and Scanning options
The Email Manager is one of the most popular parts of HelpMaster, and it continues to get more improvements and refinements as we receive requests and ideas for improvement.
The client email parsers have been improved for better handling when a client name/details cannot be extracted from the email source. 
Individual profiles can now also scan and process "Read" email (see screen-shot below).  This may be helpful for drop-folder configurations where the process of moving an email causes it to be read, thus not being picked up by the Email Manager.  This new options will be useful for this.  Due to the fact that this feature could result in many jobs being logged inadvertantly (setting this on an inbox with many "read" email), the internal processing logic and "flood control" mechanism of the Email Manager has been improved also.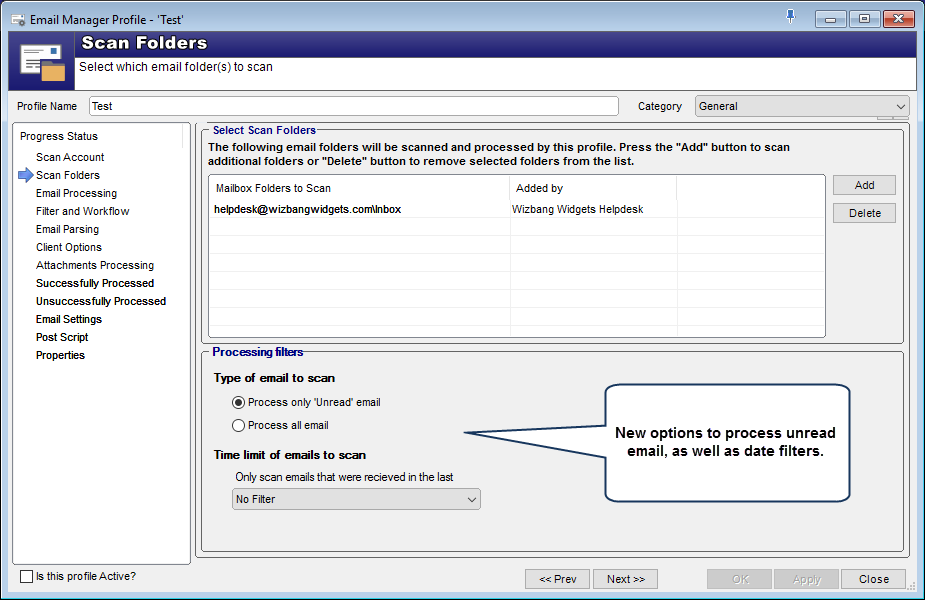 Improved Notification Management
The notifications panel has been improved.  It is now possible to delete/remove all notifications that relate to the same event.  This is handy if you have multiple notifications for the same job, reminder or whatever.  If you want to remove them all, just right-click and select the "Delete all" option.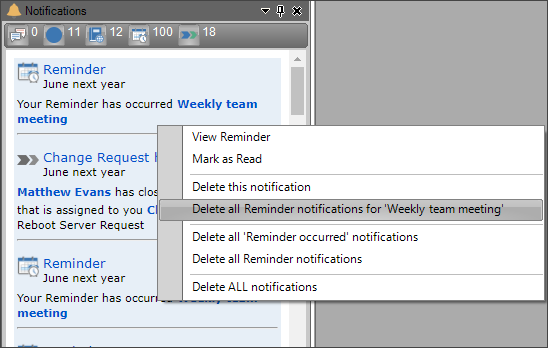 HelpMaster Latest News on the Welcome Screen
The Welcome Screen now displays an RSS feed of various on-line HelpMaster news resources such as blogs, discussion board posts and more.  Click the item to open with your default web-browser.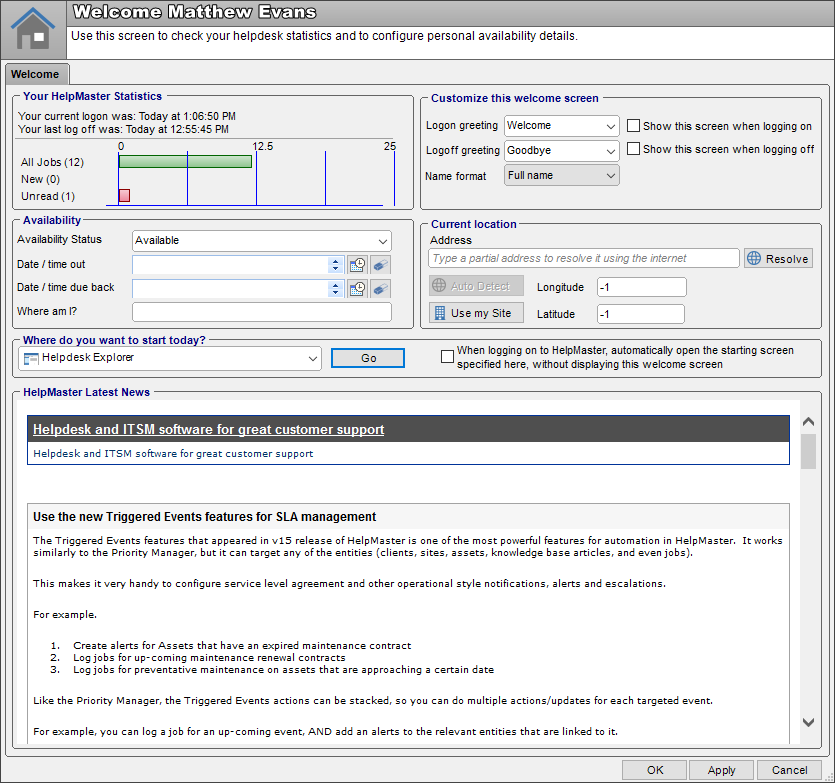 Miscellaneous bug fixes and tweaks
Several issues have also been corrected, as well as improvements in overall system performance.  See the detailed version history for specific details.