Web Portal Overview
Use HelpMaster via the web

In addition to the standard Desktop edition which runs as a Windows application, HelpMaster also has a web portal that offers similar functionality via a Web Portal.  The HelpMaster web portal is accessible to both staff and clients of your business.  Although the web portal is a single web application, the layout and functionality changes depending on who logs onto it. When clients log on, they get a simplified, cut-down version, whereas staff/agent/queue holders get a richer, more complete experience.
The web portal provides the core functionality of working with jobs, clients, sites, assets, knowledgebase and messaging, however certain administrative functions will still need to be performed via the HelpMaster desktop edition.
When clients (non staff members) logon to the web portal, they get a view of their data that allows them to interact with your company in a way that will benefit the entire organization.  When you implement the HelpMaster web portal for clients, you can dramatically reduce the number of calls to your service desk (or other business units) by empowering your clients to achieve a measure of self-service for their support and request needs. 
The HelpMaster web portal for clients allows your clients to log, view and update jobs in HelpMaster using a web-browser over the internet in a public-facing site, or internally via a corporate intranet (for internal "clients").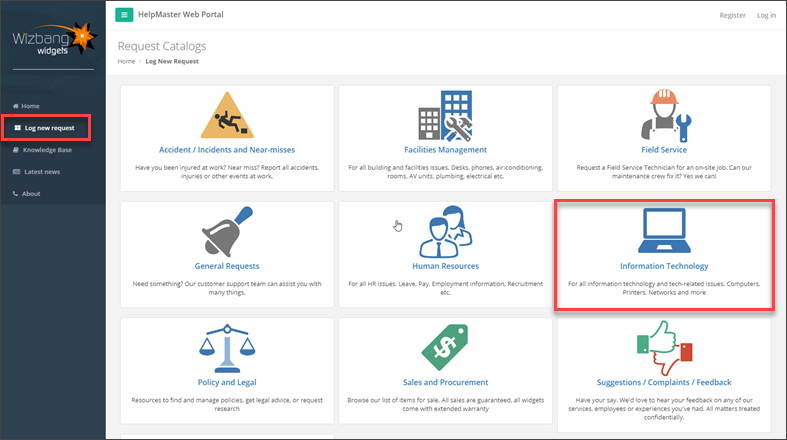 When clients wish to report a helpdesk incident, or request a business service or product, browse their history or just find a knowledge base article, they simply open their web-browser on their computer, browse to the HelpMaster web portal home page and start using.
The HelpMaster web portal for clients allows your clients to perform the following actions:
Log a job
Update existing jobs with new information
View their history
View knowledge base articles and rate their satisfaction
Read news articles posted to the message board
Benefits of a web portal for your service desk
One of the great advantages of using the HelpMaster web self-service portal is that your helpdesk staff are not tied down logging jobs.  The client web self-service portal empowers your clients to help themselves, either by finding the information they are after, or by logging their own helpdesk job / request.  Your clients can check the progress on their job whenever they want, as well as provide feedback on knowledge base articles, helpdesk job progress and their own personal details.
The HelpMaster self-service web portal results in a smarter, better helpdesk, with a great result for clients, staff and management.
Other uses for the Web Portal
The web portal is also used for workflow approvals and change management voting,and public-facing request forms.
See Also
Developer Access via the WebAPI