Email Templates
Email Templates used in Change Management
As a request for change passes through each stafe of its life-cycle, it may be advantageous to send email notifications to the relevant person who has been nominated for that stage change.  Changes, and Change Templates have the ability to set dedicated email templates for each stage.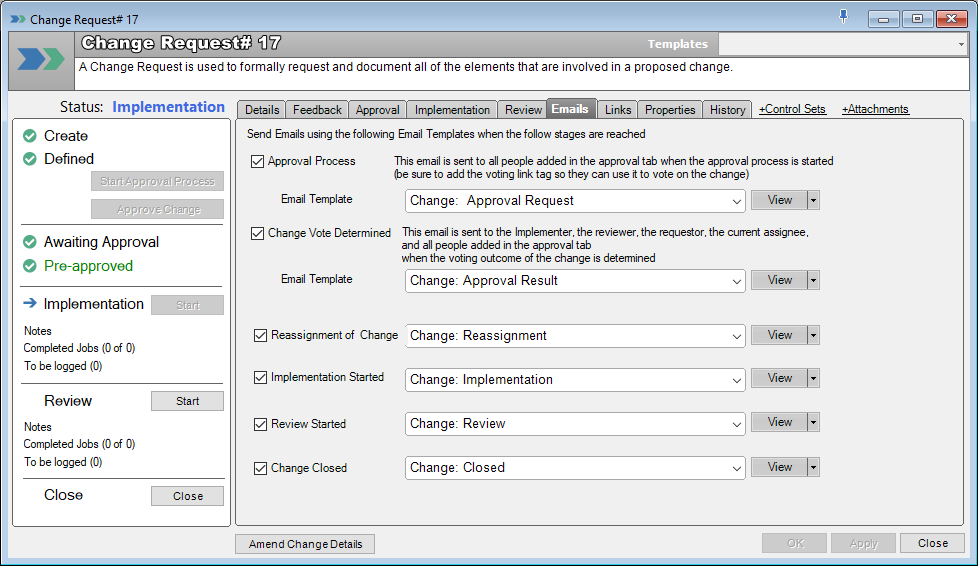 Voting
As part of the change voting processes, it is possible to send out an email to all members of the approval board with the details of the change.  This email can also contain a link to the HelpMaster web portal to a page where they can vote.
Whether you use the HelpMaster web portal, or the HelpMaster desktop edition (or both) for casting votes, it is a best practice to send out an email to notify people of their invitation to vote on a change request.
Change Management Email Templates are similar to other email templates in their basic function, however they have unique email tags associated with them and do not display in the regular email template drop-down boxes.  They are only displayed in the drop-down box on the Request for Change screen on the Approval Board tab.
Use
Change Management Email Templates can be administered via the dedicated Change menu > Change Email Templates toolbar button
Create change management email templates in the same way as you would a regular email template Email Templates, however use the special email tags to insert change-management related fields into the email. 
In order to vote via the HelpMaster web portal, you will need to include the special email tag «Change_VotingWebLink» into the email template.  This tag will be replaced with a link to your HelpMaster web portal.  In order for this to work the HelpMaster web portal will need to be installed and configured for use. 
See Also
Email Topics