Connecting to a HelpMaster database
Connecting to a HelpMaster database
HelpMaster uses a Microsoft SQL Server database.  Before HelpMaster can be used, you will need to create a HelpMaster database, then connect to this database.  Once you have created a HelpMaster database you can connect to it by performing the steps listed below.
Connecting to a HelpMaster database
From the HelpMaster logon screen, click the Database button.  The logon screen will display the list of available database connections
Click the New button
Type or select the name of the SQL Server instance that is hosting the HelpMaster database you wish to connect to, click the (local) button to select your local default instance of SQL Server. Enter the name in the format [ServerName]\[SQLInstanceName]
Check the appropriate logon method for your workplace and select the correct method - Enter user name and password if required
Select your HelpMaster database from the list
Enter any additional connection parameters e.g. "Connection Timeout=30" for VPN or slow networks
Test the connection by clicking Test Connection (optional)
Click OK to save the new database connection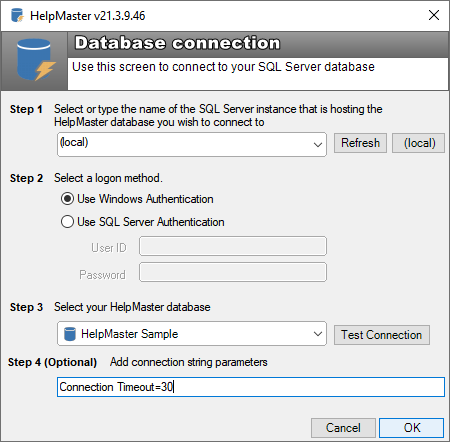 You will be prompted to give the database connection a common name.  This is the text that will appear in the list of available databases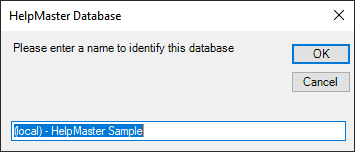 Entering a valid HelpMaster User name and password and clicking on OK will log you into the selected database.
The Application Settings XML file
HelpMaster stores the Desktop logon information in an encrypted XML file located by default at one of the locations below:
Standard local machine login
C:\ProgramData\PRD Software\HelpMaster\HelpMaster Application Settings.xml
Citrix/Terminal Server/Remote desktop
C:\Users[UserProfile]\AppData\Roaming\PRD Software\HelpMaster\HelpMaster Application Settings.xml
If you need to run 2 different versions of HelpMaster on the same machine, you can rename the "Application Settings.xml" file to include the major version number. This will allow the corresponding version of HelpMaster to look at this file to extract the database connection.
eg.
Standard filename: Application Settings.xml
Version 20 filename: Application Settings_v20.xml
Version 21 filename: Application Settings_v21.xml
See Also
Creating a HelpMaster database