Site Hierarchy
Site Hierarchy
Sites can be grouped together to form a hierarchy of sites.  This is achieved via the Site Hierarchy screen which is accessed via the main toolbar.  By creating a hierarchy of your sites, you can group sites together which may share a logical, physical, or organizational relationship.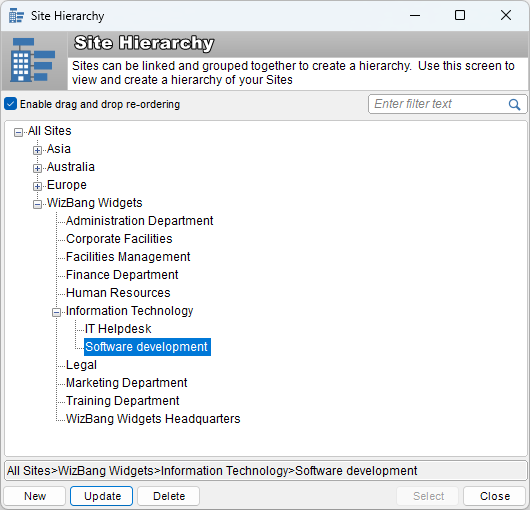 Use
To view the Sites Hierarchy screen, click the Site Hierarchy button in the Toolbar
By default, all the sites created in your HelpMaster database will appear in this screen.  To create your hierarchy, simply use the drag and drop interface to move sites around.  To enable drag and drop, check the checkbox at the top of the screen.
Why create a site hierarchy?
Organizing your sites into a hierarchy benefits you when it comes time to find jobs, or do reporting.  The Job Finder screen allows you to search on any site, but also has the ability to search on the children of a particular site, that is, sites that appear under the parent site in the Site Hierarchy screen. 
Limiting job visibility based on site association for web clients
Site Hierarchy is also used for clients accessing the client Web Portal.  When you associate clients with a site, system administrators can control the level of job visibility the client has when they login to the Web Portal.  See Client Web Settings.
See Also
Linking other entities to a Site