HelpMaster Overview
Log, track, manage and build processes for business workflow
HelpMaster has been designed to be used within business environments where there is a need to log, track, manage and schedule workflow practices and business rules. HelpMaster provides benefits to the following business areas :
ITSM (IT Service Management). Incident, problem, change, task, event and knowledge management
Helpdesk ticketing
Business Process Management and Workflow
Facilities Management
Client contact management and CRM
Marketing and sales campaigns
Knowledge management for both in-house and web-based target groups
Implement service level agreements with your clients and other business associates
Automated email response management and processing
HelpMaster provides a single, shared database that can assist your business to provide top-level support to your clients. In addition, your staff will benefit from having clearly defined lists of tasks, work orders and procedures to follow that will boost both productivity and business goals. With both desktop and Internet/intranet user interfaces, your staff and clients are able to interact and communicate better than ever to achieve a total business solution to your client contact and support requirements.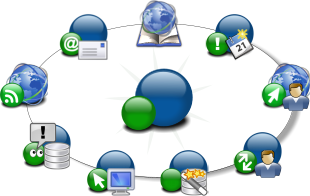 HelpMaster is a mature, enterprise enabled suite of business applications that will help your business to become more efficient, streamlined and technologically capable to meet the requirements of today's business world. Whether your business is a start-up, SME, Managed Service Provider (MSP) or an enterprise company, HelpMaster has the power and features to compliment your business workflow practices.
HelpMaster Modules and Features
HelpMaster is a suite of software applications all designed to work together to improve your helpdesk efficiency. Below is a quick overview of each feature and/or module.
HelpMaster Desktop

The Desktop is the core product of the entire HelpMaster suite. It is the application that has been designed to run on the Microsoft Windows platform and offers full administrative, workflow, and database functionality. The desktop edition provide full ticketing, workflow and process, template management and core configuration capabilities for the entire product suite.
Web Portal

The Web Portal allows staff and clients to use HelpMaster via a web browser, from anywhere. It allows technicians to log, view, and update jobs on any platform via a web-browser. Moreover, they can administer clients, staff, assets, knowledge base articles, and system codes from an easy to use Web Portal.
The Web Portal is also a great tool to reduce incoming phone calls to your helpdesk, as well as providing a valuable self-help service to your clients. The web portal also allows your clients to log, view, and update helpdesk jobs using a web browser over the Internet or your corporate intranet. When clients wish to report a helpdesk incident, browse their history or just find a knowledge base article, they simply open their web-browser on their computer, browse to the "Helpdesk" web page, login and start using.
The HelpMaster Web Portal allows clients to perform the following actions:
Log a job
Add actions to a job
View their history
View knowledge base articles
Any jobs that the client logs will appear in the job queue of your helpdesk technicians to action.
Read more about the Web Portal
Web API

The Web API allows developers and system integrators programmatic access to HelpMaster features and functions. The Web API is installed with the web portal and offers a Swagger interface for quick and easy testing and documentation.
Read more about the Web API
Priority Manager

The Priority Manager is a powerful escalation and service level agreement management tool. It can be used to automatically modify existing helpdesk jobs, send email to both staff and clients, and perform other actions relevant to your helpdesk environment. By using the Priority Manager, the helpdesk can build up a rich set of escalation and service level agreement profiles that will help your helpdesk achieve goals and provide useful managerial reporting.
It can be used as a sales management tool, a contact marketing campaign manager, an ITIL compliancy utility, a simple messaging system, or a complex, SQL driven workplace business rules enforcer.
At a basic level, it can:
Escalate job priority based upon the time a job has been opened for
Re-assign jobs
Automatically close jobs
Send email to clients, staff and others
…and much more
More advanced features include:
Completing template actions against a helpdesk job
Adding Actions to do, or tasks to an existing action
Fully SQL scriptable actions
Read more about the Priority Manager
Email Manager

Convert email into HelpMaster tickets/jobs, quickly, easily and automatically.  The Email Manager is a great tool to reduce the time and effort required to manually log jobs from incoming email. The Email Manager will monitor one or more email inbox(es) of your choice and look for any email that "fits" a profile that has been created by you.  When a match is found, a new job is logged from a pre-defined job template.  The Email Manager can also update existing jobs, add actions to existing jobs, and create new clients.
The powerful rules wizard can scan attachments, parse email content, run scripts, re-classify jobs and much more. Use for Outlook, M365, or other email sources.
Read more about the Email Manager
Active Directory

The Active Directory Module allows system administrators to keep the HelpMaster client database synchronized with your Active Directory.  When a new contact in Active Directory is created, it will also be created in HelpMaster.  The synchronization occurs at regular intervals that can be configured by the administrator.
Read more about the Active Directory help topic
Job Monitor

The HelpMaster Job Monitor is a useful application that continually monitors the job count within a staff members job queue.  When it is activated, the Job Monitor will provide a visual and audible alert if there is any change in the number of jobs that are assigned to a given staff member.  This makes the Job Monitor a useful application to keep a watch on your job count in HelpMaster, even when you are not currently logged into HelpMaster.
Read more about the Job Monitor