Client Manager
Link clients to their manager for workflow and process control
Each client can be linked to another existing HelpMaster client as their manager. This is found on the "Employment" tab of the client screen.

Use
Manually type a client to be the manager, or use the quick-select, or client selection button.
Once a manager has been selected for a client, they can be used for workflow approvals simple approvals, within Email templates, and the Field Chooser .
When designing email templates, use the dedicated Client Manager tags to customize the outgoing email.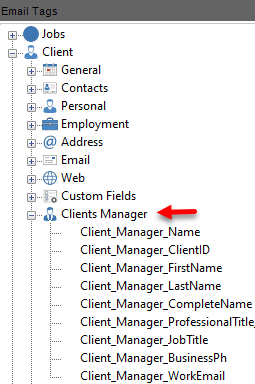 Update the manager field in Active Directory, and then use Active Directory synchronization to import the manager for each client.
See Also
Active Directory
Active Directory Synchronization for clients (populate the manager field from Active Directory data)
Workflow and Approvals
Workflow Approvals using the manager
General
Email templates - embed the "manager" tags within out-going email Field Chooser
Priority Manager
Send email to a client's manager via an automation profile