Setting a job reminder
Setting a job reminder
The Set Reminder Screen can be accessed from the Reminder button option on the Standard Toolbar, with the Set Reminder button on the Jobs Toolbar and ,  on the Helpdesk Explorer toolbar or by Holding down the Ctrl button while pressing the R button.
A reminder can be set to play a sound, beep, flash the title bar of the current window, display a message box, place a reminder icon on the task bar and be added to the unviewed Reminder list.  A reminder's details can  be displayed at a specific time or to be recurring. 
Reminder details tab
Title - Title for the message.
Specific Date/Time - Set a specified date and time for the reminder to activate.
Recurring - Set the recurrence factors by clicking on the  select button .
Details - For the body of the reminder message.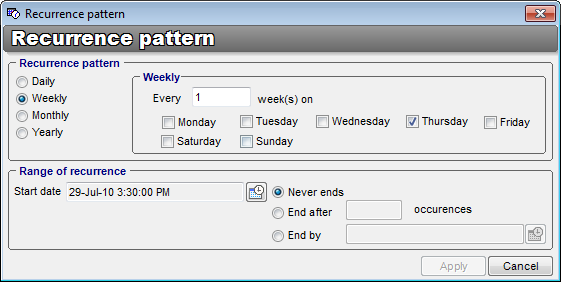 Links tab
  The links tab of the reminder screen allows you to link other entities to the reminder.  This may help to give the reminder context, and it also provides an easy way to quickly view any entity that is linked, by double-clicking on it.  By default, when you create a reminder, your name is automatically entered into the Clients list, indicating that the reminder will "go off" for you.  If other staff members are added to this list, they will also receive the specified reminder notice when it is due.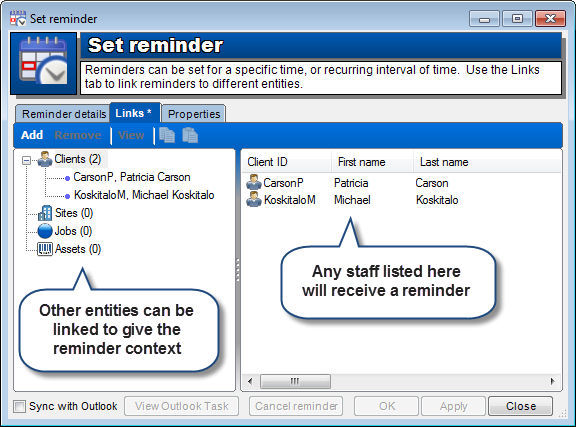 Properties tab
Add - Select the Clients, Jobs, Assets or Sites you want linked with the reminder.
Remove - Remove the Clients, Jobs, Assets or Sites you don't want linked with the reminder.
View - View the details of the Clients, Jobs, Assets or Sites in the pick box.
Action to perform when timer goes off
Add to the unviewed Reminder List
Display a standard Windows message box containing reminder message
Display a reminder icon in the task bar
Flash the title bar of the current window
Beep
Play a sound
Use
The Set Reminder screen can be accessed via the Set Reminder icon on the Jobs toolbar, by clicking on the Set Reminder option in the Jobs menu located on the Standardtoolbar, or by holding down Ctrl while entering R.
Open the Set reminder screen.
Enter a title for the reminder.
Select the Date/time and method you wish to apply. 
Click on the Properties tab of the Set Reminder screen.  This will open the reminder's properties screen.
Select the clients, workmates, sites, jobs or assets you wish this reminder to be applied to. 
Click on OK.
Integration with Microsoft Outlook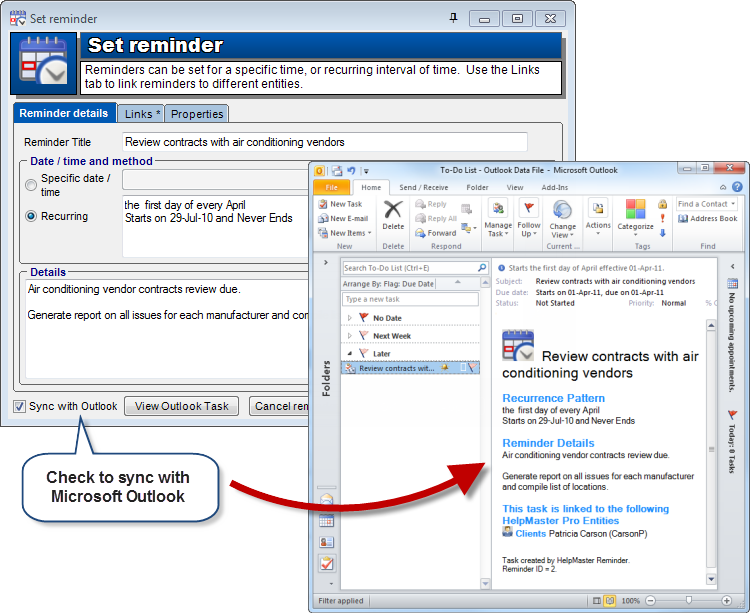 See Also