Job Monitor Overview
Job Monitor Overview
The HelpMaster Job Monitor is a small application that monitors the job count within a staff members job queue.  When it is activated, the Job Monitor will provide a visual and audible alert if there is any change in the number of jobs that are assigned to a given staff member.  This makes the Job Monitor a useful application to keep a watch on your job count in HelpMaster, even when you are not currently logged into HelpMaster.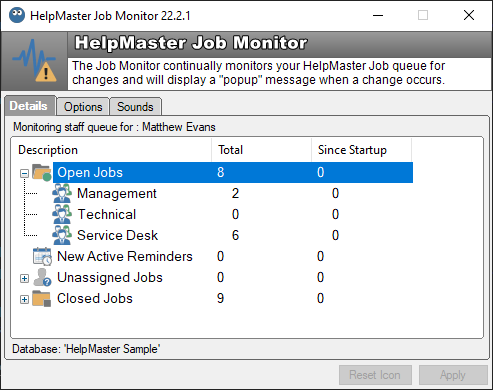 The Job Monitor will provide an alert if there is an increase or a decrease in any of the following :
The number of jobs assigned to your person job queue within HelpMaster Pro
The number of jobs assigned to the skill group that you belong to
The number of reminders that are associated with you
When any of these events occur, the Job Monitor will play a sound and also display a small popup window in the lower left of your computer screen.

The HelpMaster Job Monitor is automatically installed whenever you install the Desktop version of HelpMaster.
Tip
You may wish to place the Shortcut icon for the HelpMaster Job Monitor into your Windows Startup folder so that the Job Monitor will always activate when you log onto your computer.