Subscriptions overview
Subscriptions allow users to manage large number of templates
HelpMaster has the ability to support large numbers of templates for jobs, actions and emails, however in many instances each user of HelpMaster does not regularly use all of the available templates.  This is where "subscribing" to certain templates can be of great value. This helps the staff member to work quickly and efficiently by working off a short-list of available templates.  Each staff member using HelpMaster can have their own subscription list, thereby personalising HelpMaster to the way that they work.
Use
Open the template subscriptions screen from the HM menu > My preferences > Subscriptions tab
Select from the drop-down list which type of template you wish to subscribe to
The list on the left displays all of the available template for that template type
Double-click, or select and click the Add -> button to subscribe to the template
Click Apply to save
Personal subscriptions vs Skillgroup "pushed" subscriptions
The HelpMaster system administrator can "push" subscriptions to individual staff members, or to entire skillgroups.  When templates have been "pushed" to a skillgroup they will appear in the list of personal template subscriptions under the heading "Skillgroup pushed subscriptions" (see image below).  The staff member will not be able to remove this type of subscription - only the system administrator (or someone with security access to the Template Manager) will be able to do this.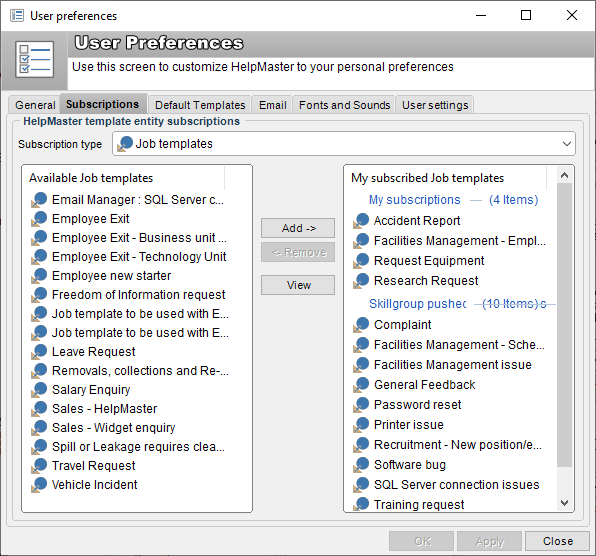 Default templates
To provide further assistance when working with templates, HelpMaster allows the user to nominate one specific template within their subscription list to to be the "default" template for that template type.  When the user performs an action within HelpMaster that can make use of templates (such as logging a helpdesk job, or performing an action on a helpdesk job), if they have set a default template, it will be automatically applied when the action is initiated. Furthermore, for action templates only, the user can nominate multiple "defaults" for each action type.
The ability to nominate a default template is only available for template Helpdesk job and action subscriptions.  Once a template has been applied, the user can over-ride the settings by manually adjusting them.
Setting the default template is done from HM menu > My preferences > Default templates tab.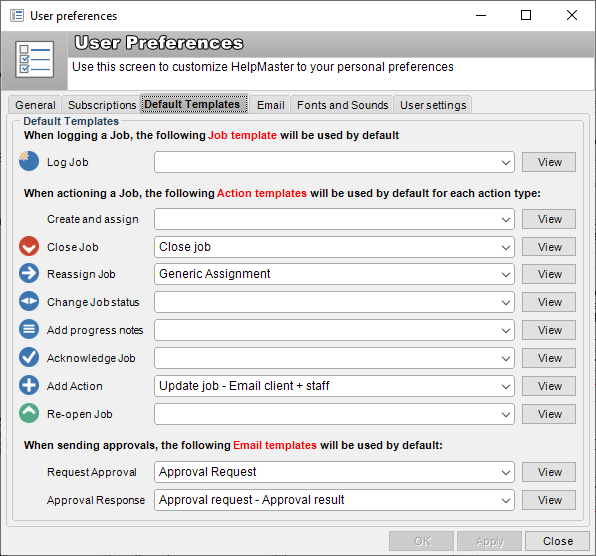 Use
Open the default template screen by using the HM menu > My preferences > Default Templates tab
Select from the drop-down list a template that you wish to be the default template for that type
Click OK or Apply to save
A subscription and default setting example
As an examine, consider a HelpMaster configuration that includes 50 job templates and 20 action templates.
A user may subscribe to only 5 of these job templates because these are the ones that they commonly use.  This becomes their job template subscription list.   If they wish to, they can nominate 1 of these 5 as their "default" job template.  This means that when they initiate logging a new job, this default template will be applied as soon as the new job screen appears.
The same user may also subscribe to 10 action templates.  This becomes their action template subscription list.  For each HelpMaster action type (Adding action, Reassigning, Changing status, Adding progress notes, closing job etc), they can nominate 1 subscribed-to action template as the default for the action type.  When they wish to reassign a job, if they have nominated a default template for the Reassign action, then this template will be applied to the action screen as soon as it appears on screen.
Remember that once a template has been applied, the user can manually over-write any information, or select another template to change the information.
Once you have successfully subscribed to a number of templates, you will be able to use them to speed up your use of common tasks within HelpMaster.  Any screen that allows the use of templates contain a drop-down box that will be populated with your subscription list.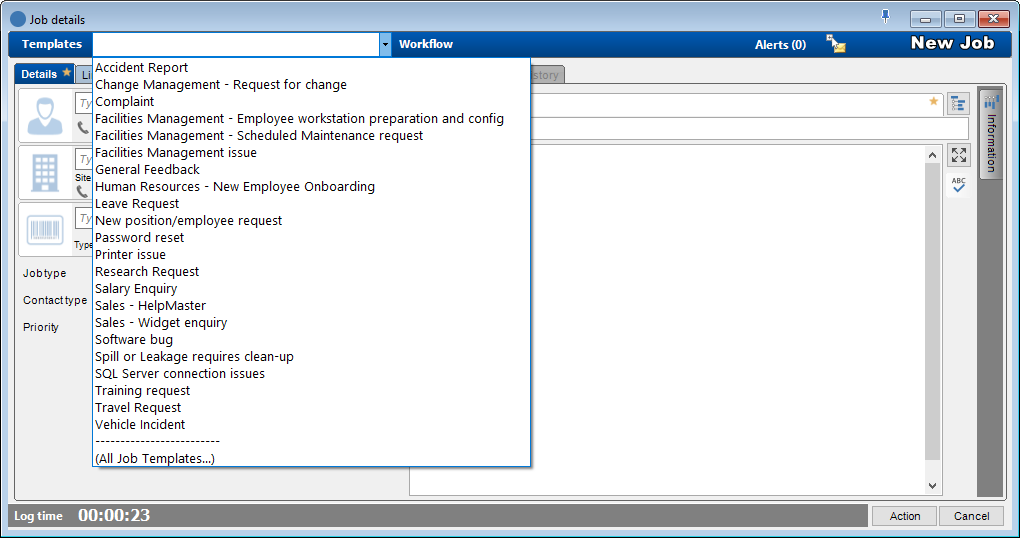 The screen shot above shows the job screen that has populated the templates list with the users subscribed to templates.  If the user then wishes to use a template that they have not subscribed to, the last entry in the drop-down box will always be "All Job Templates".  Selecting this will re-populate the drop-down box with a complete template listing.
See Also
Template Manager subscriptions
Setting default template subscriptions
Approvals