Creating a new staff member
Staff are queue-holders in HelpMaster and belong to one or more skillgroups
A staff member is a type of client that is a HelpMaster queue-holder. A staff member can also log into HelpMaster via the Desktop, or Web Portal.
Note:
When creating a staff member client, you will need to enter the permissions for the staff member.  You will also be required to assign the staff member client to a Skill and Security group before they will appear as a staff member in the Explorer. See
Skillgroups
or
Security
.
The initial steps to creating a staff member are the same as creating a new client.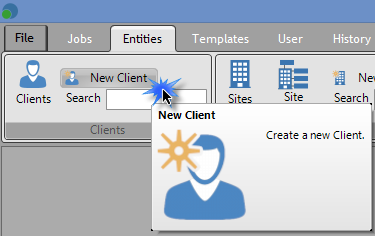 Fill in the all of the appropriate name, contact and other details for the new staff member, then click on the "Permissions" tab to display the following screen.

Click on the "Staff (user of HelpMaster) option button.  A new "Staff" tab will appear to the right of the "Permissions" tab.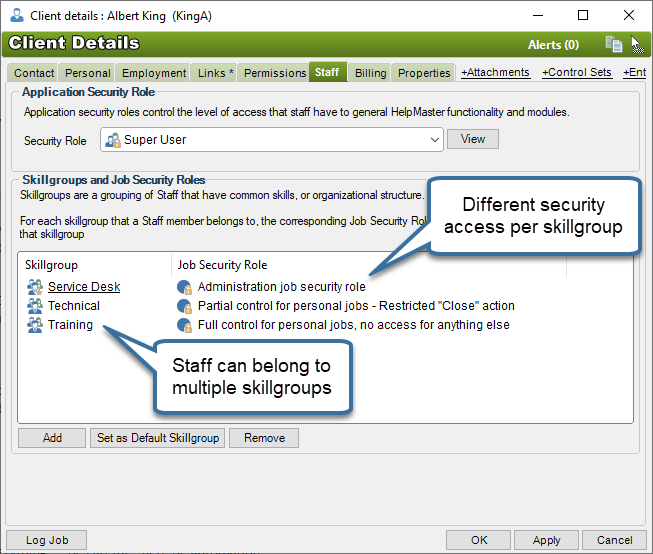 Select an appropriate Application Security Role for the staff member.  An Application Security Role determine what the staff member can do within the HelpMaster application.
Select one or more Skillgroups that the staff member belongs to. For each skillgroup selected, you will need to select a Job Workflow Role for it. 
Allocate a web portal license (if web portal access is required)

See Also
Job ownership and assigning jobs